Active
Active
Westside is a mecca for outdoor activities under the wilderness of Mt. Fuji.
To the sky! To the lake! To the highland!
More freely, and more actively!
Camping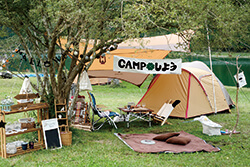 There are many appealing campsites such as lakeside campsites at Lake Motosuko and Lake Tanukiko, free campsites in the vast grassy plains, auto campsite in the forests, etc. Camping in Westside is good for beginners because facilities are well-equipped and it is easy to get fresh food materials. Let's sleep under the star-filled sky and see the beautiful Mt. Fuji glowing in the morning sun.
Paragliders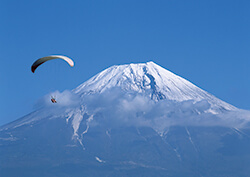 Asagiri is a holy ground of paraglider which can overlook World heritage Mt. Fuji while flying in the sky. Beginners can experience a trial flight or a tandem flight with an instructor. Feel the wind on your body and see the exclusive view of Mt. Fuji which only the paragliders can see.
Lake diving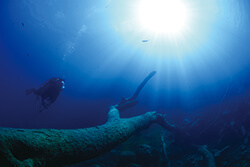 Deep, beautiful Lake Motosuko is one of the best fresh water altitude diving spots. It is with full of appeals and discoveries different from a sea diving. In the ultramarine world with lava on the lake bed and swinging waterweed, himemasu and lake smelt are swimming gracefully. Another world of Mt. Fuji is waiting for you.
Fishing
Lakes created by Mt. Fuji such as Lake Shojiko, Lake Motosuko, and Lake Tanukiko, etc. are heavens for people who love fishing. Including Japanese crucian carp, lake smelt, and kokanee, various fishing can be enjoyed in each season. The beautiful scenery of each lake including ultramarine lake water and Sakasa Fuji reflected in the lake is also fascinating.